Guestbook
Please feel free to send a note... e-mail Chris
annual show, 260 FINGERS, Ottawa
Several of Christina MacEwen's sculptures may be seen at 260 FINGERS an invitational exhibition and sale, held annually for one weekend in early November at the Glebe Centre, Ottawa.
Spirits from the Shore / Ésprits d'abords
Spirits from the Shore is a full colour 6 1/2" x 8" coil bound book of photographs of approximately twenty-five of MacEwen's spirit pieces from 1990-2005. Printed on card stock, the book is a MacEwen work in itself, a tour through the work. The book opens to lie flat; it will also stand open on a table, its vertical images echoing the nature of these tall, free-standing figures. The bilingual text provides biographical and technical information and offers descriptive insights to the creative process.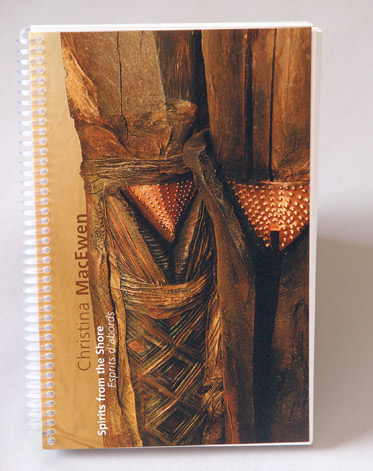 Available from the artist. Text is bilingual.
$30, plus $5 shipping
Christina MacEwen
32 Warren Avenue,
Ottawa, ON,
K1Y 0R8
Site design and photography
Hagar Visual Communication